About Stradivari Invest®
Stradivari Invest® is specialized in the fine rare stringed instruments investment niche.
We facilitate investments in the top stringed instruments made mainly by the unsurpassed luthiers of all times, Antonio Stradivari and Giuseppe Guarneri del Gesù.
Our success depends on the profit and the satisfaction of our clients. Our goal is therefore to offer the finest instruments available that secure excellent financial returns, the most satisfying
non-financial returns and extraordinary safety.
An important part of our work at the Stradivari Invest® is to support some of the most accomplished young musicians who need a great instrument to reach the highest potentials of their careers.
The finest stringed instruments are so expensive today that practically none of the younger virtuosi can afford them without a support from a sponsor or a patron.
Both our investment and our support work marry beautifully in a well-balanced symbiosis. It is a win-win situation for all involved. Both the investor and the musician gain greatly from the partnership.
The value of the instrument is preserved and further enhanced when a well-known soloist plays the instrument. And the musician's career gets a significant boost when he or she gets an opportunity to play a Stradivari or a Guarneri instrument.
Heart and Soul of Stradivari Invest®
The founder of Stradivari Invest®, Staffan Borseman, is equally at home in the world of art and business.
He has a lifelong experience as a dealer of fine stringed instruments and bows. For his outstanding knowledge and his human qualities he is a deeply respected and sought after rare stringed instrument investment consultant.
A close working relation to the late Mr. Erik Järnåker brought him into the circles of one of the major stringed instrument collections, the Järnåker Foundation.
Staffan Borseman has acquired a vast expert knowledge in the field of the history of stringed instruments and bows as well as their physical construction and acoustics. His ever-growing interest and investigative mind brought him together with top international experts in every field associated with stringed instruments.
Staffan Borseman grew up in one of the most famous Swedish music families. A student of Georg Kulenkampf, Staffan's father, Enar Borseman, violin concertmaster and music professor, led Staffan in the best of traditions, providing him with a solid basis for his musical training.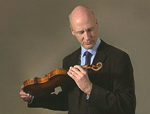 At the age of five years, Staffan Borseman made his first concert performance on the violin at the Stockholm Music Museum. Later he studied violin under Gert Crafoord, Josef Grünfarb, Tibor Varga and Jascha Brodsky.
During his international violin career Staffan Borseman has held, among other positions, that of a soloist, chamber musician and orchestral concertmaster of the Malmö Symphony Orchestra, Danish Radio Sinfonietta and the Royal Swedish Chamber Orchestra.
Over the course of 40 years Mr. Borseman has had the opportunity to examine and play on a number of the finest instruments in the world. Experienced by few, this close contact has enabled his passion for research and study of the unique aesthetical and mechanical properties that define these rare instruments.
Staffan Borseman is respected not only for his musical skills, abilities and knowledge, but also for his integrity, wisdom and ethical reliability. He is treasured and loved by his business partners, colleagues and students around the world.
Staffan Borseman's brainchild
Based on his network of researchers, scientists and leading violinmakers, his long-time desire of bringing them together to share and develop their ideas and expertise in a research centre, connected to the Violinmaking School in Cremona, has come true.
As announced in the December 2011 issue of The Strad Magazine, Staffan Borseman has organized a consortium of Universities to make Cremona a world-class centre for stringed instrument research.
Academics from Sweden and Italy have devised a yearlong programme to train science and engineering graduates in the latest acoustic analysis techniques, and to investigate how scientific knowledge applies to violin-making.
Competitive Advantage of Stradivari Invest®
Our highly specialized knowledge and unique network in the field ensures our clients exceptional instruments securing optimal financial returns that beat e.g. Dow Jones Industrial Average and the 10 and 30 year Treasury Bonds. In this highly specialized niche investment there is
a very little competition. Globally there are only a handful of real experts able to valuate, verify and certify with certainty the finest old instruments made by Stradivari and Guarneri. We are in frequent and close contact with these experts.
Our global network of musicians, collectors, dealers, violinmakers and other professionals and institutions allows us to locate the finest instruments off market and to obtain the optimal return when the investment is realized.
What Can Stradivari Invest® Do For You?
Locate the instrument with the highest ROI (return on investment) potential
Secure instrument verification, certification and valuation
Find the deserving soloist star for the loan of the instrument
Administer the loan and the insurance
Keep you continuously informed of progress of the investment and the instrument
Win-Win Policy
Our top priority is to make sure that everybody involved in our activities gets the best outcome possible.
Our Goal Is To Secure The Investor:
The highest financial return on the investment
The optimal safety of the investment
The most trouble-free management of the investment
The most pleasing and satisfying non-financial returns
And finally the opportunity to closely follow the instrument and the investment
For The Musician We Secure:
One of the finest instruments available
Optimal expression of the artistic gift
Forward the career
Easy administration of the loan and the insurance of the instrument
Our Key Partners And Specialists
Solicitor
Klaus Berning  

In Loving Memory
Sankt Annae Plads 22
DK-1250 Copenhagen K
Denmark
www.berning.dk
Total Dollar Management Effort Ltd.
325 Lexington Ave
New York, NY 10016
USA
Tel.: +1 212 689 4477
Fax: +1 212 599 6913
www.totaldollar.com
Accountant
Joerner & Schneider
Vangedegade 225
DK-2870
Dyssegaard
Denmark
Violin builder
Studio Restauro - Arte Liutaria
Jens G. Johanssen
Palazzo Calciati
Via Palestro 1
26100 Cremona
Italy
www.studiorestauro.com
Download Stradivari Invest's Presentation